Dear Gauls!
To celebrate the release of Asterix & Friends Remastered, we would like to introduce the new features in separate posts!
This time, we are talking about Gardenia, the new female villager!
Her story starts with a survey in June 2020. The survey showed that there was high interest in a female villager, for obvious reasons! After a while, we started to work on the first concept arts and her story background. While our game designers wrote the quests and decided on the rewards, the game artists finalized the character design of Gardenia and created her 3D model.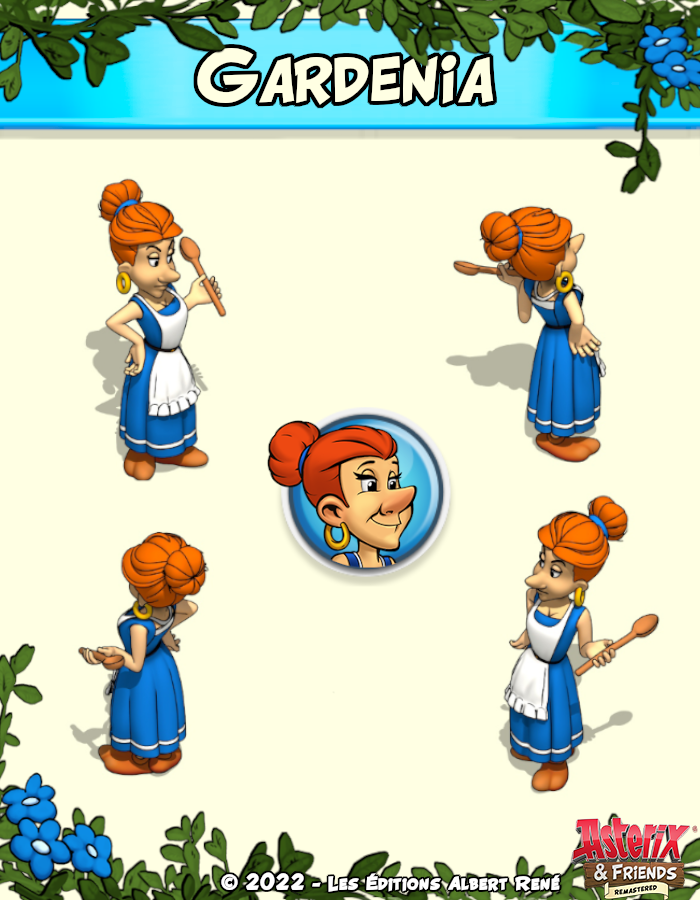 To make her stand out from the other characters and the grass background, we decided to make her hair red and her dress blue! As the wife of Ironix, Gardenia also lives in his house, so we planned no house for her. However, we wanted to add a new building and decided on a garden, perfect for her being a lover of nature!
Gardenia will travel back from Lutetia to your village after you've built the Smith's house and Gardenia's garden after reaching level 28!
She will fight alongside Pointandclix and the others in village brawls and against Romans, and she also adds around 60 quests to the game!
Included are many one-time quests, which become available from level 28, and 15 repeatable ones, which become available again after a week, or after 16, 32 or 72 hours. With Gardenia, level quests for level 71-80 will also find their way into the game.
We hope you like Gardenia as much as we do!
Your Asterix & Friends team